Hydrophore
Especially in the offshore industry a hydrophore must comply highest standards and meet a 25 years life time expectation. Therefore UEBERALL hydrophores are made from 316L stainless steel and have ABS approved design! Optional in full Brazilian NR13 execution, as standard incl. Magnetic level gauges and ABS approved Pressure Safety Valves. Bigger sizes up to 3 m³ in one tank, or if necessary as skidded unit with interconnected Duplex tanks. With or without Pumps and Control.
Applications
:
Potable Water pressurization on Board Offshore installations
Features & Benefits
:
Full 316L execution for 25 Years lifetime expectation
Magnetic Level Gauges
ABS approved design
b.U.d.a.a
The b.U.d.a.a. (best Ueberall design acc. ASME and ABS) matches 100 % with the highest demands in the offshore industry incl. full ASME execution and ABS design approval. Optionally the stainless steel 304 or 316L vessel can be Epoxy coated to prevent Chloride Stress Corrosion Cracking. Each unit is completely pre-assembled and wired with proper control panel. The standard range varies from 550 to 3.000L.
Applications
:
Hot-Water Calorification and storage on Board Offshore installation
Features & Benefits
:
Only one heating element over the full diameter
Limited heights design for easy installation
Full ASME + NR13 execution
Usoft
UEBERALL Softener units are designed for continuous operation with duplex resin tanks and automatic regeneration - as completely NON-ELECTRIC equipment. Full stainless steel 304 execution with optional ASME pressure resin tanks with Pressure Safety Valves.
Applications
:
Potable Water
Process Water
Features & Benefits
:
PN10 Bar industrial design
Inline installation
Virtually free of service
Stainless Steel 304 execution (316L optional)
References
UEBERALL GmbH is proudly serving a constantly growing base of global first class customers.
Serving global customers...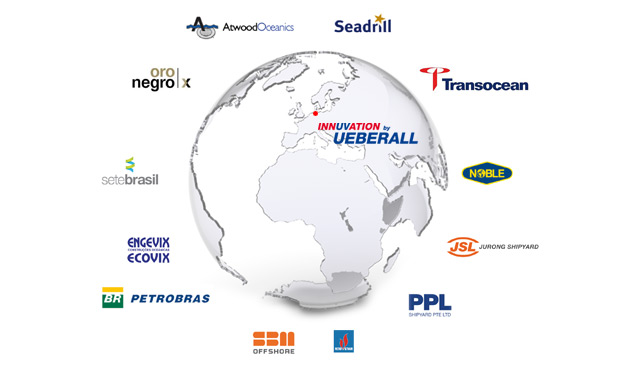 ... complying global standards!